Wrapped-eNaira, the World's First DeFi CBDC, Launches on ethereum
The Wrapped eNaira (WeNGN) extends the utility of the eNaira, the CBDC of Africa's largest economy and most crypto-centric population, into the Ethereum ecosystem, from where it can be lent, borrowed, swapped, yield-farmed, used in liquidity pools, or integrated into smart contracts.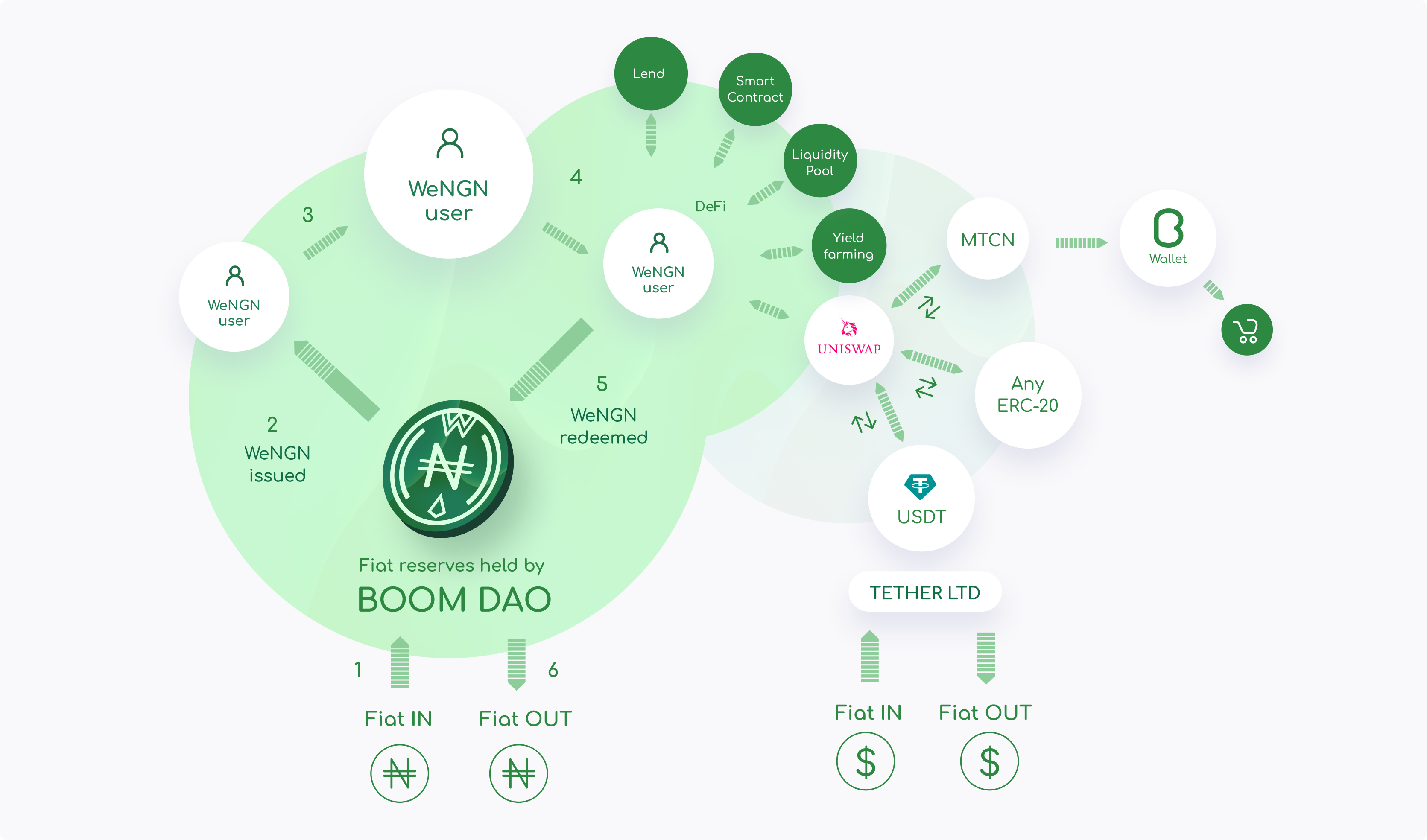 Paris, FRANCE / Lagos, NIGERIA, / London, ENGLAND June 5, 2023
Boom DAO is honoured to announce the launch of the world's first tokenised Central Bank Digital Currency ("CBDC"), the Wrapped eNaira (WeNGN) on the Ethereum blockchain. WeNGN is an open-source and permission-less version of the Nigerian Central Bank Digital Currency ("CBDC"), the eNaira. WeNGN brings fiat-level liquidity from Africa's largest economy and most crypto-centric population into the Ethereum ecosystem. WeNGN is pegged 1:1 to the eNaira. Therefore, one WeNGN equals one eNaira which equals one Naira.
Some of the benefits of the Wrapped eNaira include, but are not limited to:
WeNGN onboards eNaira into the ERC-20 format, enabling its integration into Ethereum smart contracts
WeNGN can be used in DeFi for lending, borrowing, token-swapping, yield-farming, and in liquidity pools.
WeNGN allows holders to swap it into other ERC-20 tokens such as WBTC, WETH, MTCN, USDT, USDC and more.
WeNGN enables global institutional traders and investors to access it and trade it.
WeNGN can be used by foreign companies operating in Nigeria and other African countries to repatriate their earnings abroad without relying on banks for foreign exchange.
WeNGN allows holders to fund and defund their Boom wallets for commercial transactions worldwide.
WeNGN minting, distribution, and burning are managed on-chain by the Boom DAO as its custodian. As an open-source protocol, all WeNGN transactions are viewable publicly on the Ethereum blockchain and the DAO's proof-of-reserves are published online in the interest of transparency, and these reserves guarantee 100% redeemability 24/7.
WeNGN can be exchanged for eNaira or Naira 1:1 via participating merchants worldwide and is available on decentralised exchanges like Uniswap from where it can be acquired with any ERC-20 token.
The WeNGN initiative is led by Boom DAO, a community-driven, non-profit organisation, focused on making commerce more equitable by decentralising money. Boom DAO oversees the Boom Foundation, which is responsible for the Boom e-commerce without banking application, its native token the Multicoin (MTCN), and the global initiative to tokenise CBDCs starting with the WeNGN.
The Boom DAO is a permissionless, token-based membership DAO and the MTCN is also its governance token. 1 MTCN = 1 vote.
To learn more about the WeNGN, please visit wengn.network and to learn more about Boom DAO, please visit boomdao.org